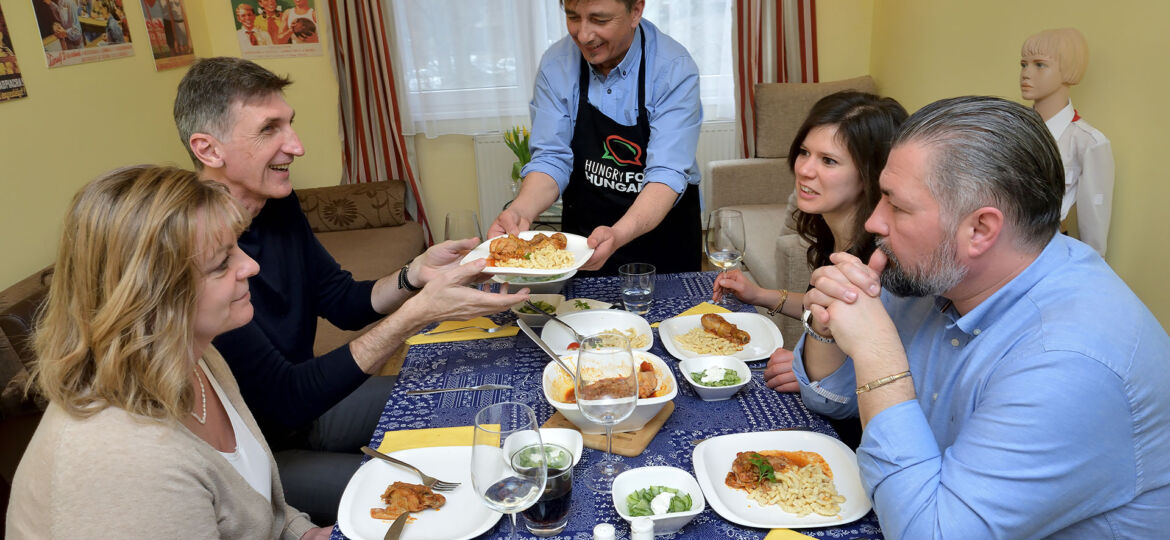 Dishes of a typical Hungarian family lunch
We chewed the cud quite a lot about the dishes representing the real traditional Hungarian kitchen. There are so many marvelous foods we would like to offer starting with various delicious soups to great types of paprikash, made of pork to chicken or fish, all the way to several vegetarian choices, and phenomenal desserts. Finally, we set up a four courses dinner including an appetizer, soup, main dish and dessert.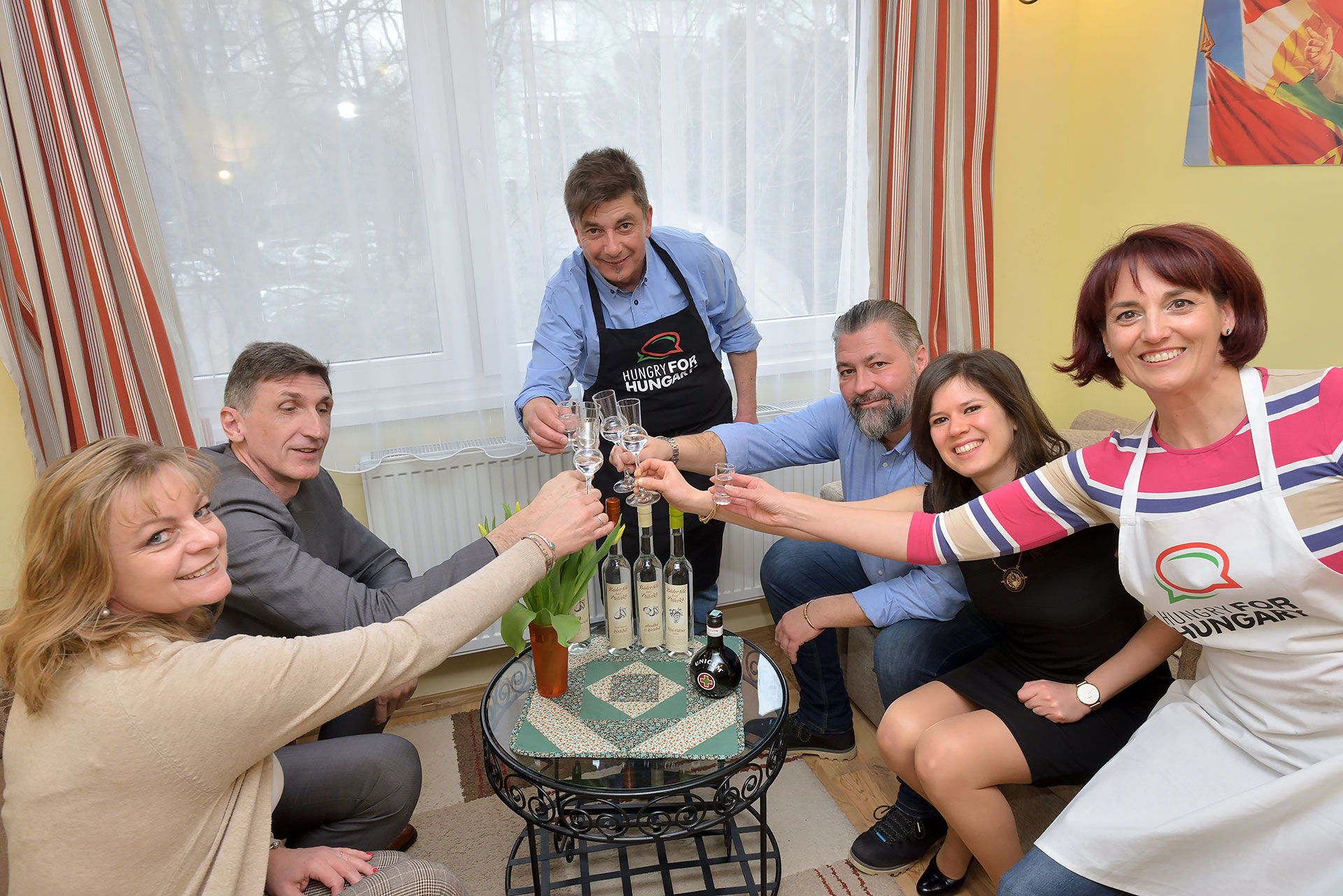 The dinner starts with palinka tasting, offering a collection of the best. In Hungary, drinking various types of palinka is not only a mandatory element of hospitality but also serves as a treatment option for a number of ailments. The selection is huge but in terms of quality, only very limited types of palinka can be ranked to the highest level. As we see, one small shot glass is enough for the guests, for the snaps is quite strong. The appetizer is offered on a wooden plate and involves two types of spreads: the special local spicy sheep and cow cottage cheese called "körözött", being seasoned with red paprika powder, cumin, salt and red onion. The liver paté is made from chicken liver with a nice portion of duck fat and onion, garlic, seasoned with marjoram, thyme, black pepper, salt and the secret ingredient, dried cranberry. We offer two types of sausage: Csabai and Pick salami, both belonging to Hungaricums which is a selection of special local products Hungarians are proud of. For vegetarian guests we offer eggplant spread prepared with lecho, the Hungarian ratatouille. Normally these appetizers are not part of a traditional Hungarian weekend lunch, but you can find its parts on breakfast or dinner tables. A nice white wine: Irsai Oliver is offered to the appetizer from the top local winery Kősziklás.
The rich meat soup is the number one soup in families in Hungary. The secret is that you cook it for 3-4 hours, very slowly. We say, it only "pearls". Meat soup can be made from chicken, pork or beef, moreover the most delicious meat soups are made from pintado or pheasant. Our chicken meat soup is cooked with a huge portion of vegetables: carrot, turnip, kohlrabi, celery, savoy cabbage and onion. It is seasoned only with salt and whole black pepper. The soup is served with special local noodle, we call it snail noodle. We suggest drinking a nice Sauvignon blanc wine with it.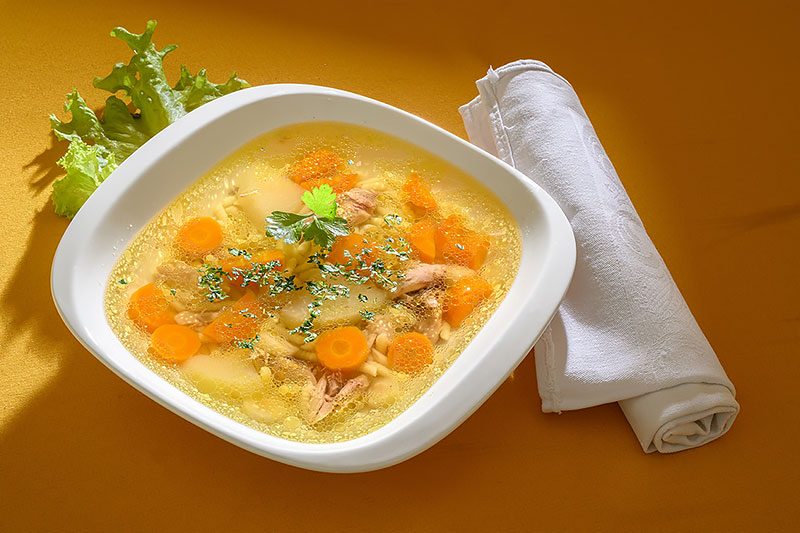 Chicken paprikash is then served as the main dish, with the freshly made noodle "nokedli", sour cream and cucumber salad. The chicken paprika, paprikash or pörkölt (stew) is an extremely simple dish, it only contains onion and duck fat, some summer letcho (I always conserve letcho in the summer, as winter paprika and tomato have no flavor), red paprika powder, salt and black pepper and the meat. Actually, these are the ingredients of other paprikash or pörkölt types, the simplest is the best. For vegetarians we offer mushroom paprikash. From the wine selection a Pinot noir roze is served to the main dish.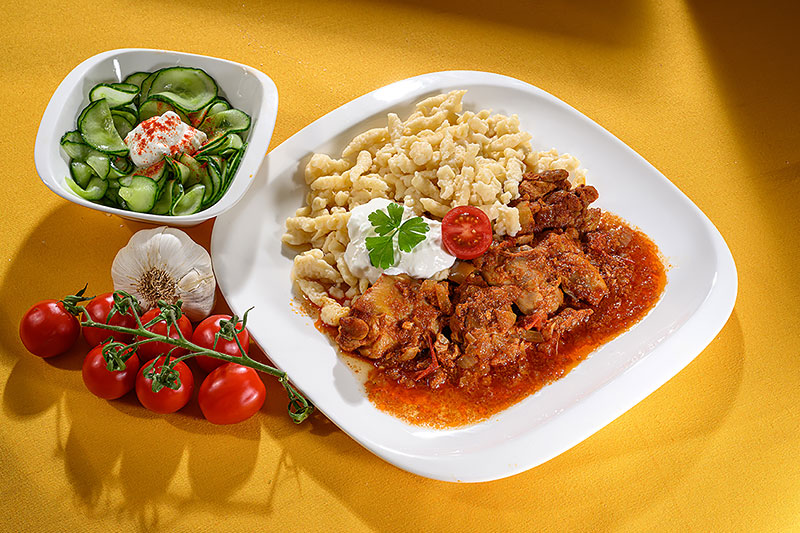 The dessert is made on the spot, we fry the pancake in an open kitchen. The Hungarian pancake is very thin and filled with different types of jams, Nutella, cocoa, sweet cottage cheese cream, nut or cinnamon, each local has his or her own favorite. We offer the flavors of our garden in the form of strawberry, peach or apricot jam. A special dessert bite is also presented to the dessert, the local specialty Túró Rudi. It is a sweet cottage cheese stick covered in chocolate and Hungarian children adore it. Based on our experience, all the guests like it, although it is completely unknown abroad. Hungarian expats say the number one food they miss abroad is Túró Rudi. Of course, the famous Hungaricum: Tokaji wine is also part of our wine selection, we serve this dessert wine to the sweet course.